I just got my Free IPv6 certification from Hurrican ( tunnelbroker.net ).
It's a very interesting process. I think this certification is worth the time spent on it, and means you really mastered IPv6 network and servers configuration.
Before continuing I must wait for my Glue Register…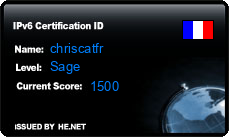 Anyway, here in Australia this free tunner broker is very efficient. It allowed me to connect my all home network on IPv6 (the Apple Time Capsule has everything necessary for ipv6 tunnels, even a selective Firewall).
It also allowed me to connect my experimental Linux server (whose provider doesn't provide IPv6 connexion). This website (on a Dedibox v3) will at last receive an IPv6 next week, Online.net promised… thanks to Hurricane Electric, I did all the necessary tests before the big jump (that I already had done 4 years ago on an OVH server… Online.net is very late…)